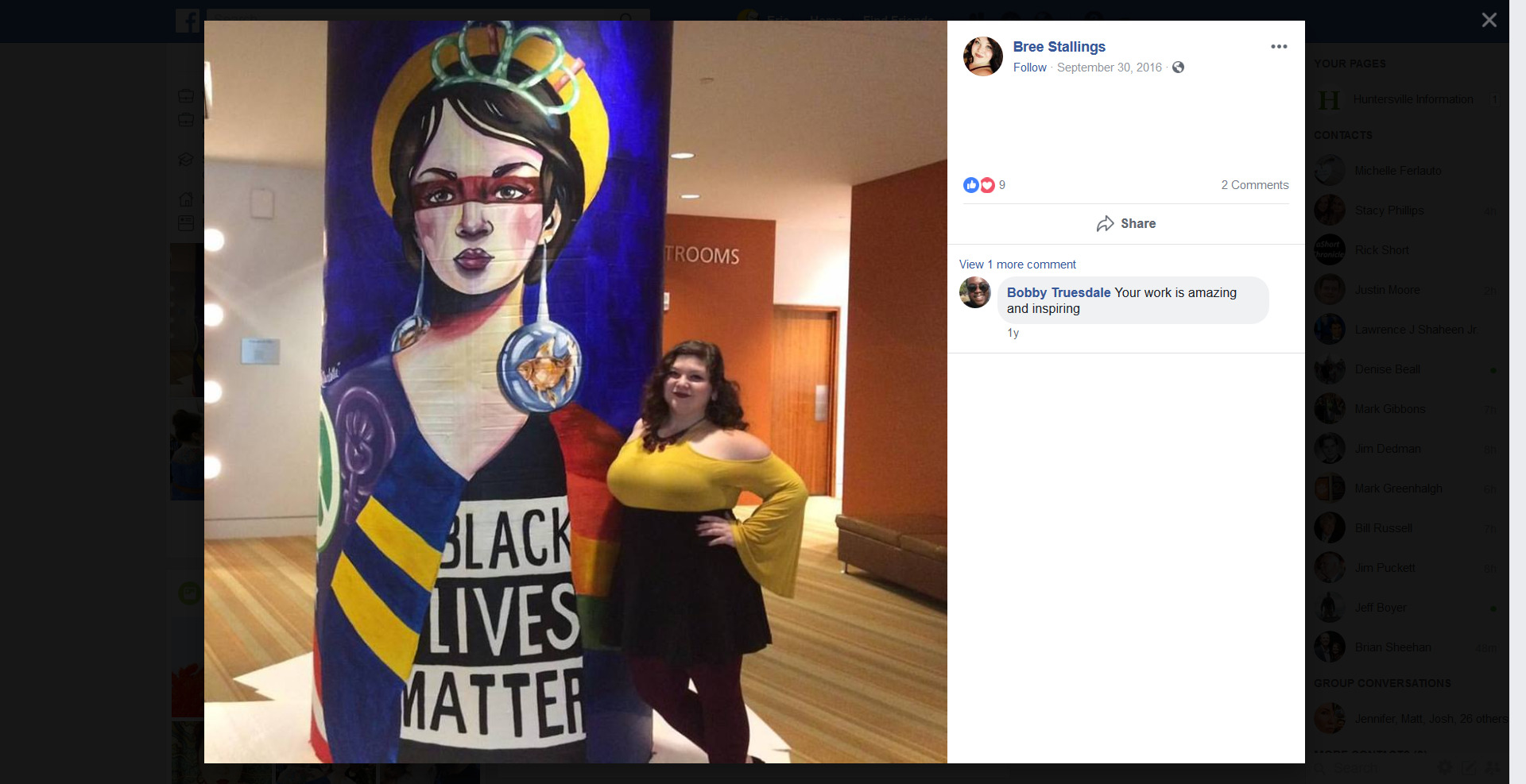 The person in the photo above is Bree Stallings, an artist and self-described activist from Charlotte, and she is standing beside a piece she created on a column inside the Knight Theater back in 2016. You can read more about the piece here. Ms. Stallings and her work were being promoted by a town staff member at the very first meeting in June of the newly created Public Art Commission. If you'll recall, thanks to Commissioners Melinda Bales and Brian Hines, and with the support of Mayor Aneralla, this new group was created by a 3-2 vote (Commissioners Boone and Phillips opposed, Commissioner Gibbons absent) at the March 19, 2018 town board meeting.
According to the minutes from the initial meeting of the Public Art Commission on June 13, Huntersville town employee Alison Ahrens provided a quote for an "interactive piece" by Ms. Stallings priced at $14,220. No description of the "interactive piece" was provided in the minutes. Why was town staff promoting one specific artist from Charlotte at the very first meeting of the Public Art Commission? Are there no artists in Huntersville who could possibly be of service to the town? This isn't the first instance of the town promoting Ms. Stallings and her work – she is one of the featured artists named at the town's Hello Huntersville Festival website and also has a piece currently being displayed at the town's Arts and Cultural Center (the old library building) near Town Hall.
Also in attendance at the June 13 meeting was a representative from Atrium Health (formerly Carolinas Healthcare System), Anna Robinson. Ms. Robinson expressed interest on behalf of Atrium in sponsoring Ms. Stalling's "interactive piece" to include some type of branding recognition for Atrium. Why was Atrium the only business interest represented at the June 13 meeting? Were any other local businesses contacted to see about their interest in being represented at the June 13 meeting (or the subsequent art commission meetings in July and August) or their interest in promoting local public art? Is Atrium just attempting to use the town's Public Art Commission to garner some positive local PR after their recent legal issues?
Of note from the minutes of the second meeting of the Public Art Commission on July 11, commission members had to be instructed by town staff that a private facebook group used to discuss town business was not allowed. The private facebook group has since been shut down according to town staff. And this after discussions about holding additional meetings at a private residence or restaurant at the June 13 meeting. Kudos to town staff for working so quickly to educate the Public Art Commission on North Carolina open meetings laws. I am still waiting, however, on a response from the town on whether any steps were taken to preserve any discussions related to town business that took place in the private facebook group before it was shut down.
Why such a push from the mayor and town staff for "public art" in the area around the Gilead/Old Statesville intersection near Town Hall? Is this merely an attempt to benefit "downtown" interests at the expense of taxpayers in other parts of Huntersville?
Again, the town should not be in the art business and the town board should not be put in the position of having to make decisions about something as subjective as art. Will Commissioners Bales and Hines be supportive of this "interactive piece" proposed by Ms. Stallings if it is used to promote social justice causes important to her that may not be as important to a majority of Huntersville residents?
The most recent meeting of the Public Art Commission was scheduled to be held yesterday – August 9. I will provide any relevant updates once the draft minutes from that meeting are released.
Eric